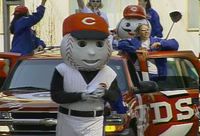 Today marked the 32nd annual Cincinnati Reds' Opening Day festivities. This is a big day in Cincinnati. The former law firm I used to work for, which is still located downtown gave out "Chip Wheelies" to all employees on Opening Day. Chip Wheelies are two chocolate chip cookies with vanilla ice cream sandwiched between them. Many other downtown businesses will close during the parade so that the employees can go out and watch the parade. The parade, actually called the Findlay Market Parade, is one of the largest in the city every year. So another baseball season has officially begun in Cincinnati.
It reminds me of one of the first memories I have of my maternal grandfather. Way back in the day when the Red's played at
Crosley Field
, took me to an opening day game. That ballpark seemed huge to me. And the hot dogs tasted so much better than they do now. That was the first time I had ever been to a major league baseball game. Now I'm not a sports enthusiast, and I am in no way athleticly inclined, but that is one of my fondest memories. Those was the days of ball players that played to play ball, not like today when they play to make money. I recall how happy it made my grandpa to sit there in those stands with his two oldest grandsons, one on each side watching his Cincinnati Reds. Even though they lost that day, it was a great time.
By the way, they won today.